kara

Add kara as a friend

kara will be notified and will have to accept this friendship request, to view updates from kara and their ratings you must follow them.

Remove kara as a friend



Lists
Recent reviews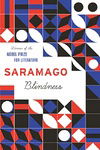 Posted : 12 years, 1 month ago on 7 November 2006 04:44 (A review of
Blindness
)
Jose Saramago's novel grips you in the opening scene with the mysterious white blindness happening to the man at the traffic light. The characters are nameless. The puncutation is lacking. Once you adapt to this way of storytelling, you are engrossed. As we endure the hardship of the "illness" throughout the book, we learn how fear can rule us and human understanding can leave us. Some parts of the book are so graphic that make your stomach turn. I wasn't too pleased with the ending...this is why I did not rate it a perfect 10.

0 comments,
Reply to this entry
Posted : 12 years, 2 months ago on 13 October 2006 06:59 (A review of
I Feel Bad About My Neck: And Other Thoughts on Being a Woman
)
Must read for any woman!

0 comments,
Reply to this entry
Movies
TV
Comments